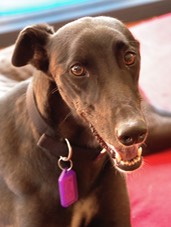 Introducing Wynny
Wynny the Greyhound was racing in Western Australia until November 2012, under the name "Hear No Rhythm". She came to me as a foster dog straight from the racing kennels on 7 January 2013, at the age of 3, through the rescue organisation Greyhounds as Pets (GAP), which is run by the racing industry (Greyhounds WA).
I was to be her foster carer while she learned how to live as a happy, loved and well-behaved family pet, so she would be ready for a permanent adoptive home a few months later.
Unfortunately by the time she left the trainer's kennel she was already ill, as well as having painful hips (possibly due to a bad fall). Dogs brought into adoption programmes are usually vet checked, but nobody told me about about her existing problems, or I would have sought proper treatment for her immediately, and it wasn't until she suddenly became seriously ill that I discovered she had chronic liver disease. GAP declined to provide any of Wynny's medical hisory, so in the absence of any other cause such as cancer, the vets attributed the damage to the prolonged use of drugs to keep her racing despite her hip problems.
Here's the story of the 7  life-changing weeks she was with me, and her tragic death due to the invidious industry to which she gave all 3 years of her life.